Subscribe to our AI magazine and get monthly AI generated stories and philosophy of the 21st century.
*Caution: All italic text is generated by AI at: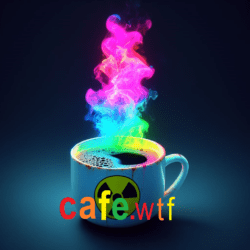 Check out the NEW Cafe.wtf Podcast
Meta-Postmodern Notes From the Underground
How To Find Happiness With Yourself
When you pull everything back, slow down, stop feeling bad for yourself, and try to analyze objectively how to find happiness with yourself, there are two ways to look at things: That your existence is dire, and so, under that guise, slowly wallow into meaninglessness. Or, you appreciate that YOU even exist in the "sense" of all of it. The act of being is forward, not stagnant. Push forward always because there's no sense in having pity on yourself when it makes just as much sense if you didn't exist in the first place. Infinite nothingness could only be so lucky to become somethingness. Act, you have will. Be thankful for it. Build something. It may not be for money. There are some who get to build something and make a living at that same thing. But for others, just build something that you want to build and can represent you. Make your mark, something bigger than just you as an entity. Building is an innate part of the human subconscious that creates the "self" as a process and idea rather than just the conscious psyche. Embrace it. Harness it! This is how to find true happiness in yourself. You're just as valuable to this world, as is everyone else. Give yourself the worth you deserve. Get a chance to express yourself to the world. Let them see who you are and what you do with and for them. Benevolence is not selfish. Humbleness is not weakness. Self expression is not pride. Learn from others. Be open. Be a giver. Inspire others to create. It's never too late for a person to realize their own worth and value, no matter how old they are or where they live. We all have this unique intrinsic value that exists only for us and no other. It's a treasure. Your treasure is different from anyone else's. Learn to like yourself. It'll show in your social media. It'll show in your clothes. It'll show in your the way you hold yourself. I'll have you know that some things I've said have been inspired during my own self discovery. I want to make something that would inspire people and impact them in a positive way. I know what I am and what I want to do with my life. Now, I am faced with the daunting task of making it happen. I don't entirely know what that means but I'll know when I see it. Nevertheless, I will not allow any opinion to take away from my self esteem. I value myself and I intend to carry that through.
*Disclaimer: Some of this story was generated through the use of AI. All italic text was created by the AI Writer.
Non-Fiction↓Here↓ | Fiction↓Here↓
Featured Image Credit: Leo Benkel at Wikimedia Commons