Genre: Movie Script, Satire
2 minute story | Short Stories | Quick Fiction | By: Atman Brahman and AI
---
A reboot of the sitcom TV series Friends, but in 2023 where financial conditions have drastically changed in Midtown Manhattan.
---
Subscribe to our AI magazine and get monthly AI generated stories and philosophy of the 21st century.
*Caution: All italic text is generated by AI at: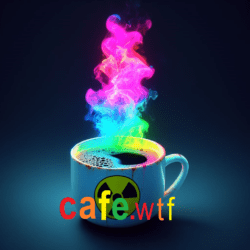 Check out the NEW Cafe.wtf Podcast
Meta-Postmodern Notes From the Underground
Friends 2.0.23
FADE IN:

INT. MONICA AND RACHEL'S APARTMENT – DAY

(RACHEL, MONICA, AND PHOEBE are chatting)

RACHEL
(surprised)
Is that Joey in there?

PHOEBE
(singing)
Just Joey locked in the closet, he can't figure out the smart thingy…

CHANDLER
(walks in)
Did I just hear Joey's stuck again?

CUT TO:

INT. JOEY AND CHANDLER'S APARTMENT – DAY

(JOEY is inside his smart closet, shivering. CHANDLER opens the closet, setting him free)

CHANDLER
(sarcastic)
Wow, Joey. And you want me to believe you're the smart one? The thermostat is set at 50.

JOEY
(defensive, shivering)
Hey, I am. It's that smart closet that's too dumb! I just needed a coat because the thermostat is stupid too, and I got stuck in here all day.

CUT BACK TO:
INT. MONICA AND RACHEL'S APARTMENT – DAY

(Doorbell rings. RACHEL opens it to a GROUP OF MEN)

PHOEBE
(with big eyes)
Rachel, are you turning the apartment into a sorority house?

RACHEL
(confessed)
This is my webcam… um… team? They keep my business running. How else could I afford this apartment?

PHOEBE
(amused)
And here I thought you were just friendly!

(MONICA sneaks in behind the men)

PHOEBE
(yells)
Monica, what are you doing?

MONICA
(calm, herpe prominent)
I'm cooking, Phoebs! I can't afford the apartment either, and I'm definitely not joining Rachel's 'team.'

PHOEBE
(smiling)
And there's the beauty of having an IQ of 7.

FADE TO:

INT. CENTRAL PERK COFFEE SHOP – DAY

(ROSS enters, looking worried. THE GANG is at their regular spot)

ROSS
(sad)
Carol, now Bob, says Paleontology is racist!

PHOEBE
(laughing)
Ross, dinosaur bones were white, isn't that a bit… white-adjacent?

ROSS
(whining)
No Phoebs, that's not how it works…

PHOEBE
(smiling)
There's always the cop-out option of becoming a white woman?

(ALL FRIENDS laugh)

CHANDLER
(mocking)
With Janus' Me Too movement issue, becoming a white woman seems like my safest bet!

(All continue to LAUGH. FADE OUT.)

TO BE CONTINUED…

FADE OUT.
FADE IN:

INT. CENTRAL PERK COFFEE SHOP – DAY

(All Friends are sitting on the couch, except ROSS who's standing.)

ROSS
(visibly upset)
I mean, does accepting my whininess really mean I need to transition?

RACHEL
(amused)
Well Ross, you do have a considerable amount of sweaters.

(Everyone LAUGHS.)

CHANDLER
(mocking)
Hey, at least you're not being accused of mental abuse by your on-and-off girlfriend who's acting like a broken seesaw.

PHOEBE
(to Chandler)
You need to stick with 'Janice.' Like gum on your shoe, just stick!

MONICA
(licks her lips nervously)
And here I thought herpes was my biggest worry.

JOEY
(excited)
Wait, I thought it was just "her pee" on your lip, how can you have multiple?

MONICA
(with disdain)
Joey, there's a smart lock on your closet, yet here we are.

(Everyone LAUGHS, but Joey, looking confused, shrugs his shoulders)

RACHEL
(defensive)
Alright, alright! But we can agree that none of you have it as bad as me!

PHOEBE
(smiling)
Still sore Rach?

(Everyone chuckles as RACHEL rolls her eyes.)

ROSS
(whining)
Guys, it's serious. My job is at risk!

CHANDLER
(trying to comfort)
Ross, if Carol can be Bob, maybe your T-Rex can be a…

(Checks his smartphone)

CHANDLER
(reading)
'Theodore Rexford, Non-binary dinosaur with pronouns They-Rex?'

(Everyone erupts in laughter except for ROSS who manages a weak smile)

FADE TO:

INT. MONICA AND RACHEL'S APARTMENT – NIGHT

(Everyone is sitting, reminiscing about the '90s, when life was simpler.)

PHOEBE
(smiling)
Remember when the worst thing we had to worry about was Ross's third divorce, and not third-wave feminism?

(Everyone LAUGHS.)

MONICA
(teary-eyed)
Or the time when rent was actually affordable.

RACHEL
(defeated)
Or when my career was less than a 6 cam shows a night… Ouch!

JOEY
(excited)
Or when food was food, not some… smart thing you can't eat!

(They all LAUGH.)

CHANDLER
(smiling)
Regardless, there's no place I'd rather struggle than here, in Manhattan, with you guys…

PHOEBE
(flexing)
Struggle? Speak for yourself. I just sold 6 crystals and my smelly cat perfume is sold out. I pay nearly half the rent with my government checks they send me because I'm "special", and my latest acoustic song went viral after I added the trap beat in the background.
(Everyone smiles, agreeing and raises their cups in a toast)

ALL TOGETHER
To surviving Manhattan!

(They laugh and continue reminiscing as the camera zooms out)

FADE OUT.

THE END.
*Disclaimer: Some of this story was generated through the use of AI. All italic text was created by the AI Writer.
Non-Fiction↓Here↓ | Fiction↓Here↓